Summary guide to making your own rosary beads
Making your own rosary beads can be a very satisfying and special experience.
All the components you need to make a rosary including the pliers can be found on our site. We also do DIY kits with enough of each finding to make 1 rosary.
This is a short guide summary in making your own rosary beads, and what size of components to buy.
Our advice would be to start off making rosary beads with 8mm beads and 16mm eye pins.
To make rosary beads will you need chain, eye pins, jump rings, a cross, a center and of course the beads. A tool is also required such as our round nose rosary pliers with wire cutters.
You need to choose whether to go for gold or silver colour base metals as all components need to match. You can choose depending on your center/crucifix colour.
Eye Pins:
12mm – good for rosaries with 4mm beads
14mm – good for rosaries with 6mm beads
16mm - good for rosaries with 8mm beads
18mm - good for rosaries with 10mm beads
You can use the longer eye pins for smaller beads however you may need to trim the eye pin with wire cutters which could slow you down.
Please see the diagrams below for how to use eye pins. Round nose pliers help shape the eye pin. Remember to hook the next eye pin or chain onto your eye pin before you fully close the loop.
Jump rings are used to attach the center and crucifix to your rosary.
Jump rings need separating from one another and then opening. To open a jump ring do not pull apart but rather move one side up and one side down to create the space to attach the chain/center/crucifix. And then close by moving the opening back to centre position.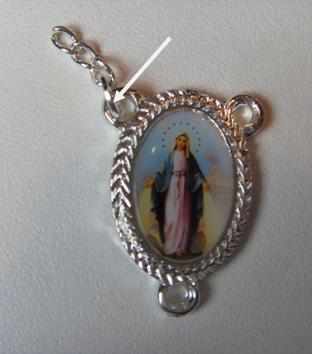 The size of your jump ring would depend on the size of your rosary and therefore the beads. We find 5-6mm jump rings are a good size for smaller rosaries as well as larger and should be suitable for a rosary with beads between 4mm and 10mm.
Cable chain is the easiest chain to work with for rosary beads. This is because it resists tangling due to its design and it is strong. You can get cable chain with oval or round links and both are suitable for rosary beads.
We recommend 3-4mm links in the chain, the most essential factor is that the eye pin can fit through the link.
When you buy cable chain some shops mention "gauge". The gauge is how the thick the links are. We recommend the gauge is a maximum of 16. (The higher the gauge number the thinner the links).
We recommend 3-5 links of chain to be used for the size of the separator chain. You will need 14 lengths of the 3-5 links for 1 set of rosary beads which should be comfortably obtained from 20cm of chain.
If you want 4 links cut the chain on the "5th" link. If you want 3 links cut the chain on the 4th link. (See diagram below).
Good luck with making your beautiful rosary beads!
This guide and pictures are the property of Rosary Heaven and are copyrighted as such. The guide is for individual use in making rosary beads. Please ask for permission before sharing.